Peanut Destoner Machine|Stone Cleaner Manufacturers
Material: peanut
Capacity: 3500-6000kg/h
Loading Port: Qingdao Port
The peanut destoner machine is composed of feeding hopper, first-level elevator, de-stone machine, air blower, second-level elevator, splicing device, etc. Scientific design, reasonable structure, easy to use and good performance.
Working Principle of Peanut Stone Cleaner:
After the peanut enters the screening machine by the feeding machine, it is continuously pushed forward by the spiral piece so as to select a variety of specifications with accurate grading, high yield and no damage. It is a kind of peanut, soybean, sesame, corn, stone-like materials to go to the ideal equipment.
Features of
Peanut Destoner Machine
:
1. the machine is equipped with a reflux device, which can effectively reduce the production cycle, and the addition of a discharge port.
2. the equipment is equipped with dust removal device, can greatly reduce dust pollution.
3. the machine's compact structure, can be independent operation, easy to move, production efficiency adjustable.

Operating Guide of Peanut Stone Cleaner Machine:
The main function of peanut de-stoner is grading of peanuts, focusing on cleaning stone.
1, the adjustment of the vibration direction angle: In the course of work, release the lock handle, rotating the small circle on the vibration sign into a straight line for the correct position, and then lock, then the indicator of the corresponding scale, that is, vibration Direction angle. Generally about 30 degrees.
2, if found in the process of grading, to stone effect is not good, you should check the size of the throttle opening, the height of the stone valve position, the size of the feed flow and feeding uniformity.
3, the feed adjustment: feeding box with a spring pressure gate and uniform dial, the spring pressure gate can stabilize the feed flow, the feed tank should be adjusted by a certain thickness of the material in order to block the air flow from Into the machine, by adjusting the leveling dial, you can make the material evenly distributed in the machine within the sieve width.
4, the air volume regulation: Loosen the fan on the air conditioning butterfly valve handle, by adjusting the open degree of the handle, change the size of the air volume, air volume is appropriate to screen surface material is subject to suspension.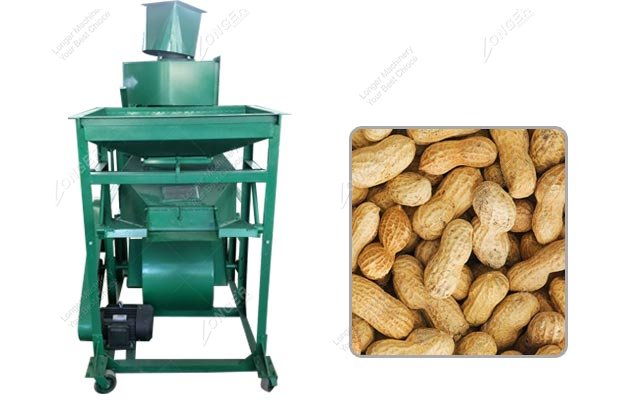 Model
LG-3500
LG-4500
Capacity
3500KG/H
4500KG/H
Nut Shelling Rate
More than 98%
More than 98%
Breaking Rate
Less than 3.8%
Less than 3.8%
Loss Rate
Less than 0.5%
Less than 0.5%
Damage Rate
Less than 3%
Less than 3%
Impurity Rate
Less than 2%
Less than 1%
Power
Cleaner: 4KW, Grade 2;
3KW, Grade 4
Sheller: 7.5KW, Grade 6;
7.5KW, Grade 4
Cleaner:5.5KW, Grade 2;
4KW, Grade 4
Sheller: 7.5KW, Grade 6;
3KW, Grade 4;
7.5KW, Grade 2.
Dimension
3010*1360*2820mm
3010*4350*2940
Weight
1100kg
1640kg
Leave Message
Replace
Related Products