Pumpkin Seed Shelling Machine for Sale|Pumpkin Seed Sheller Huller Suppliers
Material: pumpkin seed,melon seed
Capacity: 200-300 kg/h
Loading Port: Qingdao Port
Detailed Introduction of Pumpkin Seed Shelling Machine
The sheller can achieve the shelling, peeling and sorting processes to pumpkin seed, watermelon seeds and melon seeds etc..The equipment consists of 2 parts: cleaning and sorting units, shelling and sorting units.
1) The sorting machine can clean the pumpkin seeds and watermelon seeds, remove various impurities, and then divide the seeds into some grades according to size, so as to carry out shelling and sorting.
2) The shelling and sorting machine can respectively carry out shelling, peeling and sorting of the pumpkin seeds and the watermelon seeds, etc., and the seeds which are not released can be automatically returned to the shelling machine for shelling again until they are disengaged. Because the method of grading and shelling is adopted, the separating effect of the shelling is very good and the efficiency is high.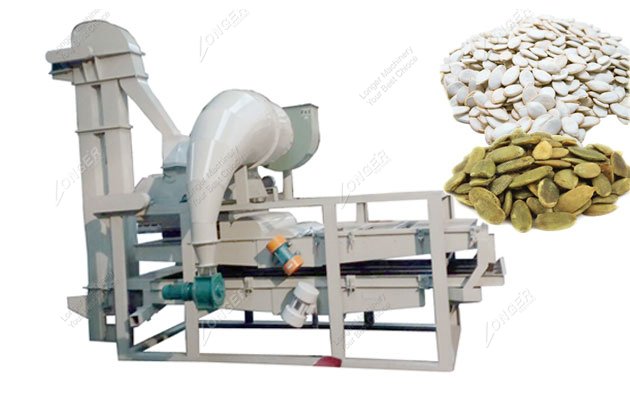 Features of Pumpkin Seed Sheller Huller
1) Adopt the method of wet shelling
2) Through the improvement of the sheller, the shelling crushing efficiency higher and lower rate of nuts.
3) Application of circular shelling, that is, the hulled kernel automatically enters the next shelling cycle;
4) In the leather collection and processing, the machine adopts vibration negative pressure sorting instead of blowing leather way, reducing dust production.
5) Increasing the sieving process and the sieving area, so that the kernel can be fully screened, and the fragmentation caused by the return of the kernel to the sheller is reduced,
6)Through the replacement of sorting sieve, the machine can be processed with different specifications of white melon seeds.
7) The compact structure, low consumption, easy operation and maintenance etc.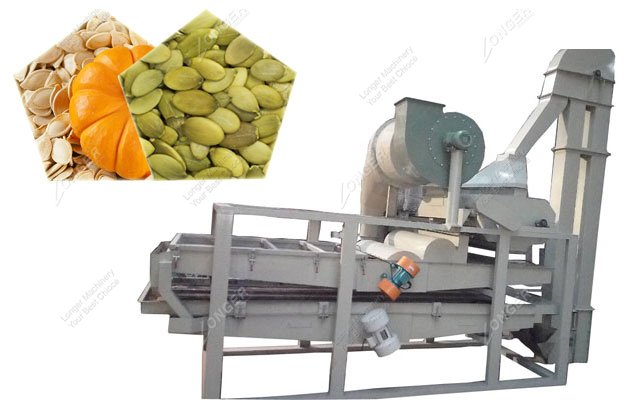 | | |
| --- | --- |
| Power | 4.42kw (380v/50HZ) |
| Whole Kernel Rate | more than 95% |
| Capacity | 200-300kg/h |
| Space Occupied | 6.2*2.5m |
| Height | 3.2 m |
| Weight | 1.5 t |
| | |
| --- | --- |
| Machine | Quantity |
| Input Hopper | 1 |
| Elevator | 1 |
| Dehuller and Separating | 1 |
| Resorting Sieve Section | 1 |
| Discharge Hopper | 1 |
| Control Cabinet | 1 |
Leave Message
Replace
Related Products