Wild Rice Hulling Machine|Rice Huller India
Material: wild rice
Capacity: 300-400kg /h
Loading Port: Qingdao Port
Brief Introduction of Wild Rice Hulling Machine
The three small rubber roller hulling machine (patent products) a hulling rate can be as high as 99%, equivalent to two of the rubber roll huller shelling two times the effect. One can be completely separated from the chaff clean, low noise. The body is sealed type, chaff dust into a whole bag inside, the door or inside the room without dust, environmental protection and health.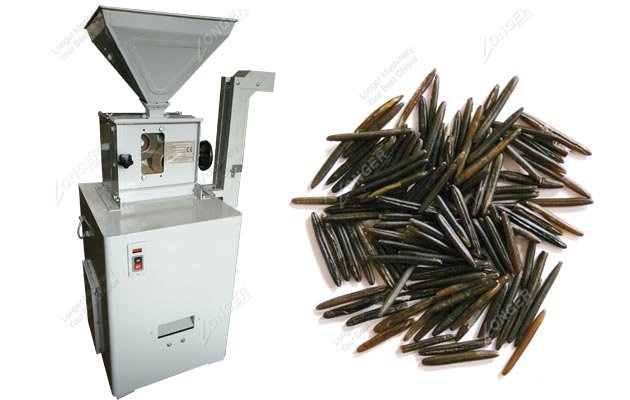 Advantages of Wild Rice Huller India

1) huller head installed three rollers, a grain feed two times and admission. The effect is equivalent to two and two times of rubber roller sheller.
2) the two sides of the rubber roll are very good: one side is special glass, the other is hardened manganese steel, and the two materials are all super hard and wear resistant. To prevent leakage under no grain directly by shelling rollers. Even if the material is worn, it can still be leaking through flanging and turning.
Therefore, integrated these two points, a rate hulling rate can reach 99%!
3) glass huller head on the door, the door can be opened and the head, internal rollers visible, therefore the adjustment is very convenient to use. People who are less professional can also be used easily.
4) huller cots rubber layer is very thick, relatively long life.
5) 220V/380V electric drive, use no dust, clean separation of rice and hulls. It is a good choice for rice processing plant.
| | |
| --- | --- |
| Model | LG-5 |
| Packaging | Wooden |
| Capacity (kg/h) | 300-400 |
| Size (mm) | 500*500*1020 |
| Weight (kg) | 102 |
Leave Message
Replace
Related Products