Automatic Sesame Seed Peeling Machine Suppliers|Industrial Sesame Peeler Machine Price China
Material: sesame seed
Capacity: 400-650 kg/h
Loading Port: Qingdao Port
Introduction of Sesame Seed Peeling Machine:
The new sesame cleaning and peeling machine is a vertical structure, and the inner space can be fully utilized, the volume is small, the structure is simple, the appearance is beautiful, the operation is convenient, and the maintenance rate is low. A composite agitator is adopted, in which the axial shunt is generated. Radial shunt and circumferential shunt action, the material is fully turned and no dead angle. The use of the composite agitator shortens the time of foaming, peeling and separating of the sesame seeds, improves the production efficiency and improves the quality of the product.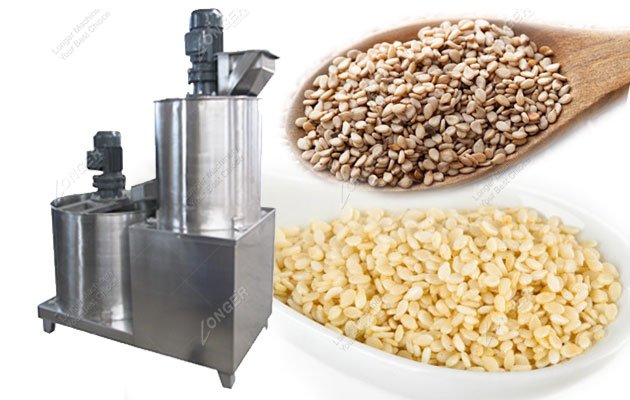 Working Principle of Sesame Peeler Machine China:

1) Main structure: This machine is mainly composed of reducer, tank, compound agitator, separator, heater, positioning device and various inlet and outlet pipes.
2) Working principle of peeling process: The relative friction between the agitator and the sesame seeds, between the sesame and the sesame, is utilized to separate the sesame and the kernel, so as to achieve the purpose of peeling the sesame.
3) Separation of hull and kernel principle procedure: Using a separator interception function, make sesame sesame discharged through the separator, and the interception, so as to achieve the purpose of separation of hull and kernel sesame.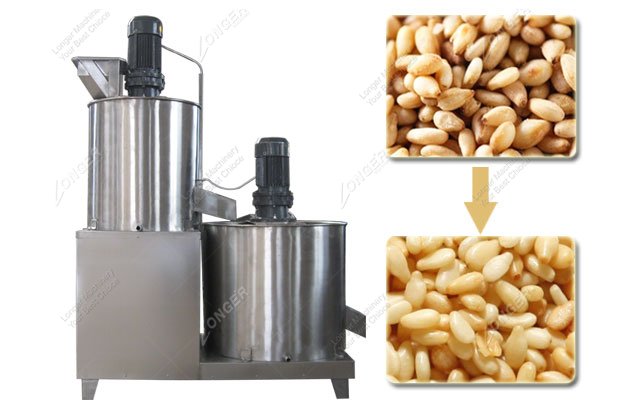 | | |
| --- | --- |
| Model | LG-120 |
| Motor Power | 4.1kw |
| Peeling Rate | >=95% |
| Net Weight | 450kg |
| Dimension | 1400*700*2000 mm |
| Capacity | 400-650 kg/h |
Leave Message
Replace
Related Products