Automatic Peanut Butter Making Machine Line|Peanut Butter Production Line
Material: peanut butter
Capacity: 300 kg/h
Loading Port: Qingdao Port
Equipment Composition of Peanut Butter Making Machine Line:
Peanut sauce production line general equipment: oven, cooling belt, peeling machine, sorting belt, coarse grinding machine, superfine grinding machine, condensing machine, degassing tank, filling machine.
1) Oven: bake the peanuts.
2) Cooling Belt: the principle of using the fan to remove the heat to cool the roasted peanuts.
3) Peeling Machine: remove the roasted peanut skin, automatically separate the peeled peanut kernel and red skin, ensure the quality of the peeled peanuts.
4) Selection Belt: choose the unqualified peanut and some food residue.
5) Coarse Grinding Machine: first grinding of peanut.
6) Superfine Grinding: further grinding the coarse grinding peanut, and further improving the processing fineness.
7) Condensing Machine: to cool the ground peanut butter.
8) Degassing Tank: degassing peanut butter before filling.
9) Filling: filling and packing.
10) Peanut Butter Cooling Machine: using foreign technology, improved and reached the advanced level at home and abroad, is the ideal equipment for peanut butter cooling, with fast cooling, easy cleaning and so on.
11) Peanut Grinder: peanut, sesame, after baking, peeling, grinding sauce necessary equipment, can work alone, can also be used in conjunction with production lines.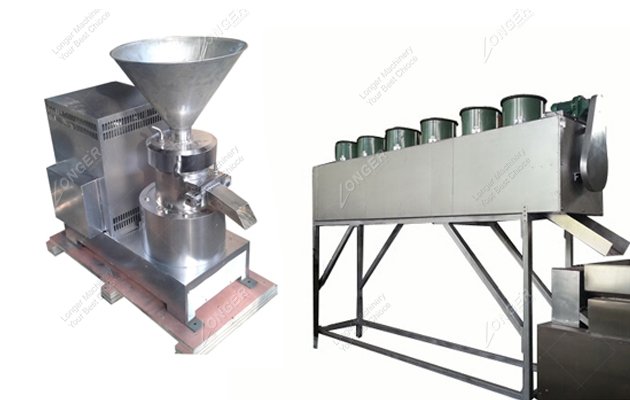 Peanut Butter Production Line
Advantages:
1) peanut butter production line according to market demand, complete sets of equipment in the core equipment roughing mill and refiner for a number of improvements and optimization, processing fineness further improved. So that the complete sets of equipment production line mechanization of high degree of reliability, and fully enclosed production.
2) with simple operation, smooth operation, low noise, easy maintenance, corrosion resistance, wide use, variety and so on. In the domestic and international markets popular.
3) peanut butter production line can be processed with high quality stable peanut butter, peanut butter and ordinary peanut butter.
We also manuafcture
sesane butter making line
, if you need any butter making machine, just contact me. We sincerely look forward to cooperating with you!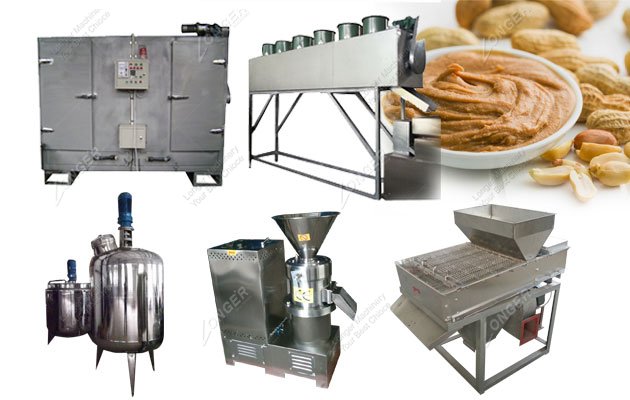 Video of
Peanut Butter Making Line
:
| | | | |
| --- | --- | --- | --- |
| No. | Name | Power(KW) | Size(mm) |
| 1 | Baking machine | 70.8 | 3000*2900*1650 |
| 2 | Conveyor belt | 0.75 | 2400*500*500 |
| 3 | Elevator belt | | |
| 4 | Cooling Belt | 3 | 10000*1000*1700 |
| 5 | Peeling machine for half | 1.5 | 1100*700*1300 |
| 6 | Screening belt | 0.75 | 5000*800*1000 |
| 7 | Hoist | 0.75 | 1000*500*3400 |
| 8 | Store material feeding machine | 0.55 | 700*700*2200 |
| 9 | Butter grinding machine | 11*2 sets | 1000*350*900 |
| 10 | Storage tank | | 200L |
| 11 | Paste pump | 1.5 | 1200*300*350 |
| 12 | Mixing tank | 2.2 | 300L |
| 13 | Vacuum degassing tank | 2.2 | 300L |
| 14 | Paste pump | 1.5 | 1200*300*350 |
Leave Message
Replace
Related Products