Cashew Nut Shelling and Roasting Machine Line
Material: cashew nut
Capacity: 700 kg/h
Loading Port: Qingdao Port
Advantages of Cashew Nuts Shelling Machine Line:
1.Steam boiling shelling method keeps the cashew kernels originally white, and quality of cashew isn't affected by the boiling time.
2.Toughness of cashew increased after steam boiling, lower the kernel's broken rate when shelling.
3.The equipment of this processing line are simple and easy to operate, with small investment.
4.The classifier make the cashew uniform in size, and easier to be shelled completely.
5.Separator machine can make the cashew kernels and shells separated and prepared for the peeling process.
6.Cashew peeling machine peels the cashew kernels with high efficiency, saved labor and time.
7.Cashew kernels after peeled will be roasted, it is benefit for storage or sale.
There are different types of these machines, the users can choose suitable type according to their actual requirements.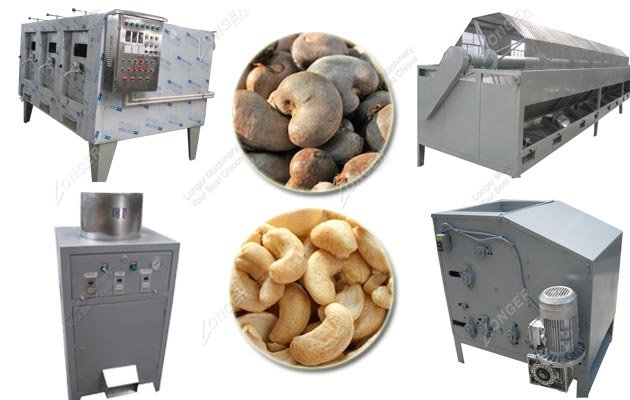 Name
Specific
Classifier
Capacity:400kg/h
Power:1.1kw
Size:3.6*0.9*1.6m
Weight:450kg
Cooking Machine
Capacity: 200kg/h
Electric Power: 18kw
Size: 1.5*0.6*1.55m
Weight: 150kg
Cooking machine with boiler
Capacity: 1200kg/h
Power: 1.1kw
Voltage: 380v
Size: 2*1*2.8m
Steam Boiler: 0.2³
Size: 0.8*0.6*2.2m
Shelling Machine

Size: 1*0.7*0.9M
Weight: 200KG
Capacity: 80-100KG
Voltage: 380/220V/50HZ
Shell Kernel Separator Machine
Size:1.9*0.8*1.4M
Power: 1.1 kw
Voltage: 380v/50HZ
Capacity: 500kg/h
Weight: 140kg
Cashew Peeling Machine

Capacity: 100-150kg
Weight: 70kg
Size: 640*600*1300mm
Cashew Roasting Machine
Capacity: 400-450kg/h
Power: 4.4kw
Size: 3000*4400*1700mm
Leave Message
Replace
Related Products