Castor Seed Shelling Machine|Ricinus Communis Huller Machine Romania
Material: castor bean
Capacity: 500-1000 kg/h
Loading Port: Qingdao Port
Castor Seed Shelling Machine Structure And Working Principle:
1, the structure: the machine has a hopper, pliers roller, shed concave plate, fan, the proportion of sorting sieve, wind conveyor and other components. Simple and compact structure, simple operation, stable performance, safe and reliable, durable.
2, the working principle:
Castor seeds are manually fed into the hopper, first rolled into the drum, due to the rotation between the plate and the shed between the gravure, the castor seed shell peeling, stripped after the castor seed kernel and shell at the same time The front porcelain plate is dropped and, when passing through the duct, most of the ricinus communis are blown out of the machine, and a small portion of the ungrirored castor oil is dropped into the proportioning sieves. After screening, Select the screen up the line, through the rice noodles into the sacks, and has not yet stripped of castor bean fruit from the sieve surface down, after the outlet into the wind conveyor, and then by the wind conveyor to send the drum, the second shell, And then sorted by the proportion of sorting, you can achieve all the stripping.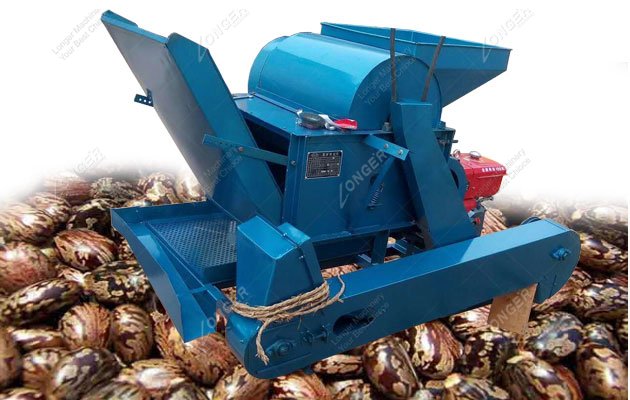 | | |
| --- | --- |
| Model | LG600-B |
| Capacity | 500-1000 kg/h |
| HP | 2.2 kw/380 v |
| Shelling Rate | 95% |
| Damage Rate | Less than 3% |
| Dimension | 2.1*1.0*1.5m |
| Weight | 350 kg |
Leave Message
Replace
Related Products