Gram Roasting Machine Gujarat|Chickpea Roaster India Price
Material: gram,chickpea
Capacity: 80-120kg/h
Loading Port: Qingdao Port
Working Principle of Gram Roaster Machine:
It can be widely used to roast beans and nuts. The machine is a rotary drum type roasting machine, with electric and gas as a heat source. With hot air as the medium, the machine uses the principle of heat conduction and heat radiation to act on the materials to be roasted. In the roasting process, the material in the cage by the propulsion device continues to advance, roll, forming an uninterrupted cycle, the material evenly heated, effectively ensure the quality of the baking...




Advantages of Gram Roasting Machine:
1. Advanced structure, the front cover can be opened, eavy maintenance.
2. Rotory drum equipped with a thermostat, the temperature can be adjusted freely so that can make sure a good roasting effect.
3. Insulation performance, high thermal efficiency, to meet a variety of roasting temperature requirements.
4. The roasted products have a good taste, low energy consumption, save energy.
5. The heating method has gas and electric, customer can choose freely.
6. Automatic temperature control device (0-300 ℃) : Using hot air as a heating medium, so the product can get constant evenly heating.
7. Recommended roasting time is 15-20 minutes.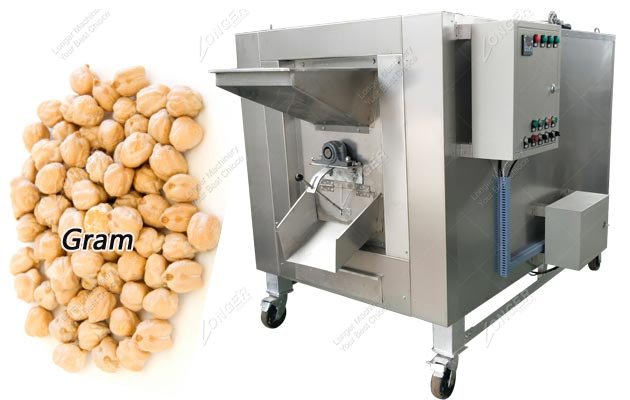 Chickpea Roasting Machine Purchase Statement:
1. About the freight charge: the price of the machines of this website contains no freight tax and adjustment and installation fee, and the price of the machine is factory price. Because the delivery way is different, and there are different delivery locations, so the shipping cost to each place is different. So the store should determine the freight price according to the way of delivery and the place, so as to ensure the final transaction price.
2. About the machine picture: the product pictures are taken according to the actual machine, because the camera shooting pictures and the actual products inevitably have the color error, all with the physical map as the criterion.
| | |
| --- | --- |
| Model | LGMHK-1 |
| Dimension(mm) | 3000*1200*1700 |
| Output (kg/h) | 80-120 |
| Motor Power(Kw) | 1.1 |
| Electrical Heating(kw) | 18 |
| Gas Heating(kg) | 2-3 |
Leave Message
Replace
Related Products