Coriander Seeds and Powder Roasting Machine Manufacturers
Material: coriander seeds,powder
Capacity: 180-250 kg/h
Loading Port: Qingdao Port
Coriander seed roasting machine uses advanced drum plus copy board structure. In the copy board under the action of the material into the cylinder, it is constantly being thrown in the hot air flow so that the particle surface fully in contact with hot air, so as to achieve the best drying effect, the completion of the material drying process. The roater also can be used to dry coriander powder and other grains. It has a widely usage in food and agricultural industry.
Structure and Features of Coriander Seed Powder Roasting Machine
1. The machine is mainly composed of revolving body, feeder board, transmission device, support device and sealing ring.
2. With a reasonable structure, well-made, high yield, low energy consumption, easy operation and so on.
3. The machine can also be used for fertilizer production, drying a certain degree of humidity and particle size of fertilizer, but also can be used for other materials drying.
4. This machine has the advantages of reasonable layout and angle design, reliable performance, high thermal efficiency, even drying, easy material cleaning and easy maintenance.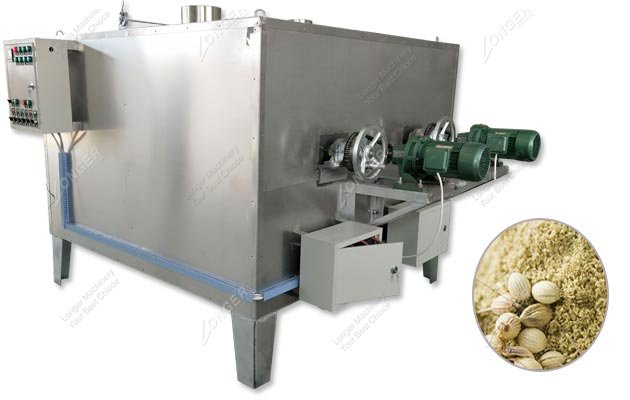 Working Principle of
Coriander Seed Roaster Machine
:
The seed roaster cylinder is a rotating bowl slightly tilted from the horizontal. The material is added from the higher end, the heating medium enters from the low end, comes into countercurrent contact with the material, and the heating medium and the material co-flow into the cylinder together. With the rotation of the coriander seeds dryer cylinder, the material runs to the end of the heavier by gravity. During the forward movement of the wet material in the cylinder body, the heating of the heating medium is obtained directly or indirectly, so that the wet material can be dried, and then sent out by a belt conveyor or a screw conveyor at the discharge end.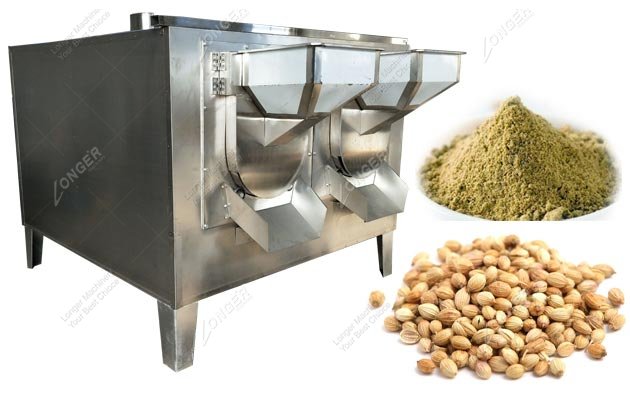 Coriander Seeds Roasting Machine
Working Video
| | |
| --- | --- |
| Model | LGMHK-2 |
| Dimension(mm) | 3000*2200*1700 |
| Output (kg/h) | 180-250 |
| Motor Power(Kw) | 2.2 |
| Electrical Heating(kw) | 35 |
| Gas Heating(kg) | 3-6 |
Leave Message
Replace
Related Products