Sesame Seed Washing and Drying Machine Manufacturer
Material: sesame,wheat
Capacity: 250-1000 kg/h
Loading Port: Qingdao Port
Sesame seed washing drying machine adopts the principle of helical blade mixing, removing the dust, sandstone, nails during sesame seeds. This cleaning drying line realize automatic cleaning, automatic separating, automatic wind loading, sesame cleaning, no pollution, simple operation etc. This line is the preferred machine for sesame tahini pretreating, roast sesame seeds, sesame oil industry.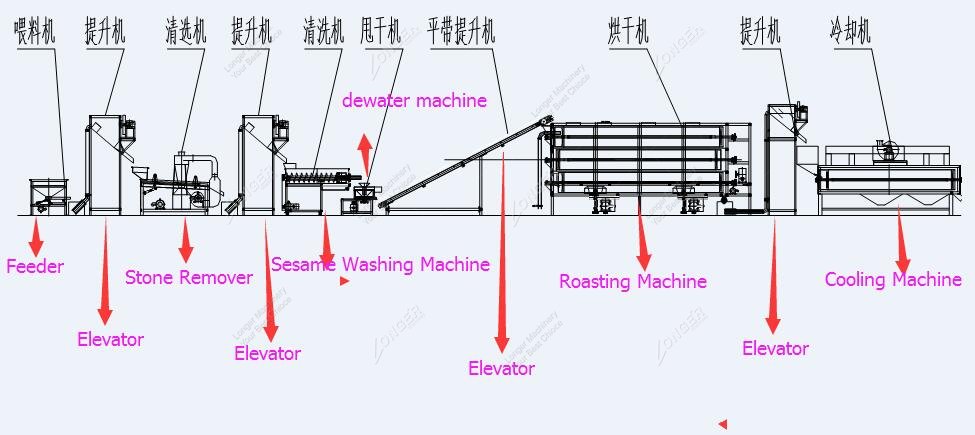 The main equipment of sesame washing line:
1. Pneumatic elevator: Pneumatic elevator adopts air lift method to carry the sesame seeds, good lifting effect and no damage to sesame seeds..
2. Washing machine: The principle of helical blade stirrer is adopted in this machine, remove dust, sand, sesame nails with automatic cleaning, automatic separation, automatic feeding, wind and other advantages, characteristics of sesame clean, no pollution, simple operation of equipment etc. It is the first choice for sesame processing, sesame baking, sesame oil extraction industry.
3. Centrifugal hydro-extractor: It is also named dewater machine, it uses the centrifugal force generated by the rotating cone drum to remove the water from the cleaned sesame seeds.
4. Roasting machine: The sesame seeds drying machine can roast the sesame seeds evenly and uniformly in order to remove the water still contained in the sesame seeds after dehydration process.
5. Cooling machine: This cooling machine has function of storing and cooling the sesame seeds, reducing the processing time.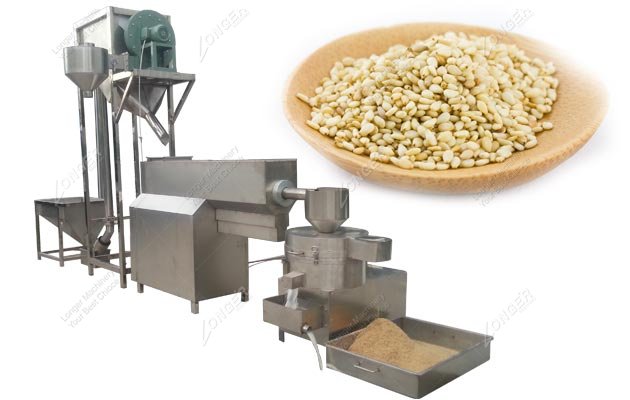 Name
Dimension(mm)
Power
(kw)
Weight
(kg)
Screw Elevator
2000*600*2000
0.75
150
Continuous Cleaning
Machine
2300*500*1350
0.75
200
Drying Machine
1000*800*650
1.5
100
Elevator
3000*600*3000
0.75
220
Sesame Roaster
Machine
3500*1400*2600
75
3000
Pneumatic Conveyor
1.5
250
Cooling Storage
Hopper
1500*1000*2000
1.5
250
Combined Grinding
Machine
1000*400*900
22
270
Storaging Tank
300 L
150
Mixing Tank
300 L
2.2
300
Vacuum Degassing
Tank
300 L
2.2
300
Paste Pump
1.5*2
100*2
Other parts
Leave Message
Replace
Related Products