Industrial Cocoa Powder Making Machine|Manufacturing Machinery India
Material: cocoa bean
Capacity: 200-500 kg/h
Loading Port: Qingdao Port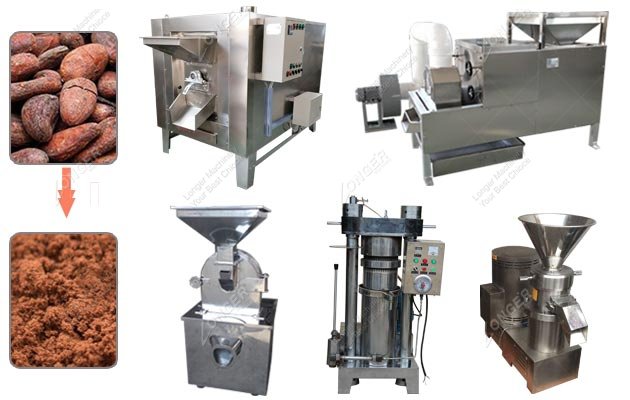 The cocoa powder making line includes cocoa bean roaster, cocoa bean peeling machine, cocoa bean grinding machine, oil extraction machine and powder making machine. The machinery is a necessary equipment for cocoa powder manufacturing palnt in food industry. The details of main cocoa powder making machines are as follows:
1. Cocoa bean roaster: the roasting machine is made up of transmission parts, electric heating pipes, electric control boxes, rollers and other parts. It has the advantages of automatic temperature control, high automation and uniform baking. It is an ideal processing equipment for roasting cocoa beans, peanuts, hazelnuts, pistachio nuts, almond and soybean nuts.
2. Cocoa bean peeling machine: the machine is specially used to process cocoa bean and peanut. High degree of automation, high yield, low noise and no pollution. Equipped with vacuum cleaner to suck out peanut and cocoa bean skin. It has advantages of high efficiency, high peeling rate, with less consumption.
3. Cocoa bean grinder: The working principle of the grinding mill is: The fluid or semi fluid material is subjected to centrifugal force, forcing the shear and high frequency vibration to be carried out between the stator and rotor with high speed relative motion, so that the fine processed materials can be effectively smashed, emulsified, homogenized, dispersed and mixed.
4. Cocoa oil extraction machine: Automatic hydraulic press machine is a kind of small mechanical oil press, which is easy to operate, high oil production rate and less damaged parts. It is a new product instead of small manual oil pressing equipment at present. Because every time the amount of oil extraction is 2 to 8 kilograms per time, the time is short (8 one 12 minutes), which is especially suitable for small and medium-sized factories.
5. Cocoa oil cake crusher machine: The bone broken machine has strong function of crushing pigs, cattle, poultry, fish bone and other hard materials such as cocoa cake. The machine has large crushing ratio, high efficiency, small area, easy to install and easy to operate and maintain. The shell and hopper parts are made of all stainless steel and have good corrosion resistance.
6. Cocoa powder making machine: The unit uses the relative motion between the movable tooth disc and the fixed tooth disk so that the material can be crushed through the impact, friction and the impact of the material to each other. The crushed material will automatically enter the trap bag by rotating centrifugal force, and the dust is filtered and recycled by the cloth bag.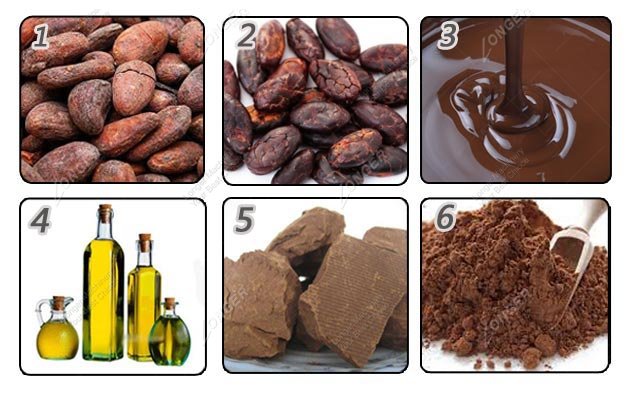 Name
Specification
1.Roasting machine
Gas volume:2-3kg/h
Power:1.1 kw
Dimension:2900*1250*1750mm
Capacity:100kg/h
2. Bean peeling machine
Power:1.5kw+0.75kw, 380V,50HZ
Capacity:300-500kg/h
Dimension:1800*750*1300mm
3.Grinding machine
Output size(mesh): 100-200
Capacity(kg/h): 200
Power(kw):7.5
Weight(kg):175
Dimension(mm):700*430*980
4. Oil Press Machine
Pressure: 60Mpa
Piston stroke: 550mm
Feeding Diameter: 230mm
Capacity(Per time): 7-8kg
Heating power:1kw
Hydraylic Motor power: 1.5kw,380V
Nominal pressure: 2200KN
Capacity: 50-60kg/h
Dimension: 900*750*1400mm
Weight: 880kg
5.Cocoa oil cake
crushing machine
Capacity:200kg/h
Inter diameter:300*210mm
Power:5.5kw
Weight:340kg
Dimension:1000*700*1300mm
6.Powder making machine
Capacity(kg/h):100-300kg/h
Revolution of spindle:3400r/min
Size of fed material (mm):12
Grinding Size:60-120 mesh
Crusher motor:11kw
Cleaner motor:0.75kw
Dimension (mm):600*700*1450
Weight (kg):320
Leave Message
Replace
Related Products