Honey and Flour Coated Peanut Production Line Manufacturer
Material: 1 set
Capacity: 1-5ton/day
Loading Port: Qingdao Port
The honey and flour coated peanut production line is is a new generation of products with advanced and practical features.It is based on the introduction of foreign technology, combined with China's national conditions, under the painstaking study of technical personnel.The whole line can realize automatic production, can save a lot of human resources, greatly reduce the production cost of the product. The machine can be customized according to the output requirement of the customer.
Process: roasting - peeling - coating - baking - cooling - packaging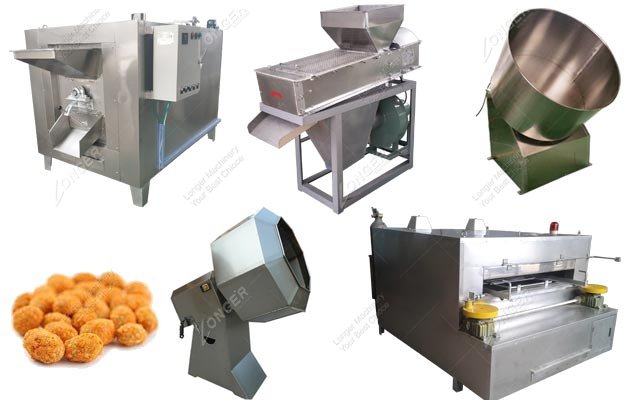 Mian Equipments Introduciton:
1. Peanut roasting machine: The machine is mainly used for peanuts, beans, cocoa beans, melon seeds, nuts, nuts and other granular materials drying and baking hot products. It uses rotary drum, air convection, infrared radiation principle. Through the work of electric heating tube heat generated by infrared radiation and hot air convection on the material to dry, baked out of the material taste pure. In the heating process, the drum in the continuous rotation, so that the material heating evenly.
2. Peanut peeling machine: It is specially used for peeling fried or dried peanuts to be processed into peanut kernels.After processed,peanut kernel and peanut skin will be automatic separated.the peeling machine needs the raw material moisture content below 4%, the raw material is generally recommended after roasted peanuts.
3. Peanut coating machine:This equipment is provided with a stepless speed regulating device, which can process various kinds of granular food, and is a special equipment for various kinds of food wrapping, hanging sugar and shaping of Japanese beans, hollow beans, fish skin, peanuts, fragrant incense, etc.It has the advantages of stable rotation, low noise and no pollution. Widely used in leisure food processing industry, is the production of many flavors of peanut essential equipment.
4. Swing oven: Using plane swing stirring function, using gas, coal, electric heating mode, speed adjustable, It is mainly for coated food baking, with the display device for clutch and temperature, automatic feeding, automatic discharging. The furnace has high productivity, low breaking rate of baking food, uniform color and no pollution.
5. Flavoring machine: It is made of stainless steel, is a main equipment for the peanut and other food processing ingredients, feeding, mixing.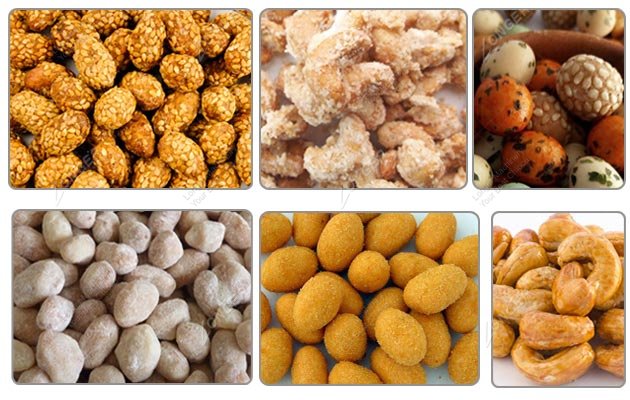 Name
Parameter
Peanut Roasting machine
(Gas heating)
Temperature: Normal
Capacity: 500-650kg/h
Power: 5.5kw/380V /50HZ
Dimension: 5.5*3*1.7 m
Peanut peeler
Peeling performance: 96%
Voltage: 380V/220V/50hz
Capacity: 500kg/h
Coating machine
Capacity: 120kg/h
power: 0.75kw
Particle swing roasting machine
Power:0.75kw
Electrical heating power:20kw
Capacity: 150-200kg/h
Voltage:380V/50hz
Flavoring machine
Power:0.75kw
Capacity: 250kg/h
Cooling machine
Power:7.5kw
Capacity:1-2T/h
Dimension: 6*0.8*1.2m
Granule Packing Machine
Power:2.5KW/220V
Measure Range:10-120g/bag.
Bag Size:L:50-160
W: 30-130
Capacity:30-60 bags/minutes
Leave Message
Replace
Related Products