Ginger Paste Maker Machine|Garlic Grinder in India
Material: ginger,garlic
Capacity: 0.8-1t/h
Loading Port: Qingdao Port
Application of Ginger Garlic Paste Maker:
The machine is widely used in the food industry, pharmaceutical industry, chemical industry, daily chemical industry; such as: gimger paste, garlic paste, soy milk, jam, peanut butter, almoond paste, wheat milk essence, sesame oil, butter, paint, lubricants, dyes, paints, pollen, royal jelly, cosmetics and so on. The corrosion resistant colloid mill is suitable for homogenization, emulsification, mixing and crushing of all kinds of semi fluid, fluid and emulsion. It can also be applied to small batch production. The voltage has two models, 380V and 220V, and 220V voltage type is convenient for users without three-phase power.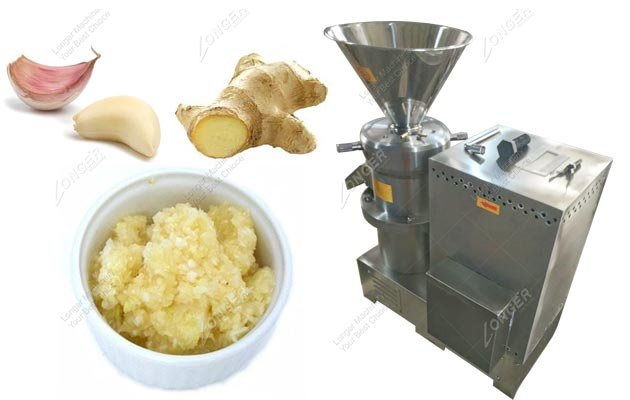 Working principle Ginder Garlic Paste Grinder:
Fluid or semi fluid materials by centrifugal force, forced through at high speed relative motion between the stator and rotor, shear, high frequency vibration, effectively crushing, emulsifying, homogenizing, dispersing and mixing to obtain fine processing materials.
The company actively introduce advanced production equipment and manufacturing technology at home and abroad; grinder machine strictly according to ISO and CE standards, the full implementation of quality monitoring, so the product quality can be sustained and stable development, the machines are exported to Europe and Southeast Asia and the national radiation; enterprises because of the new and old customers and the community to support the enterprise can the rapid stable development. If you need the machine, just contact me. We sincerely look forward to cooperating with you!
| | |
| --- | --- |
| Model | LGJMS-180 |
| Fineness | 100-200 mesh |
| Output | 0.8-1 t/h |
| Power | 18.5kw |
| Weight | 340 kg |
| Size | 830*490*1100mm |
Leave Message
Replace
Related Products