Spices Crushing Machine|Pepper Powder Making Equipment Manufacturer
Material: spices,pepper,sugar,salt
Capacity: 100-300 kg/h
Loading Port: Qingdao Port
Introduction of Spices Crushing Machine:
The crushing machine is made of high quality stainless steel 304, form a complete set of national standard motor, it is mainly used for chemical material, block material, all kinds of grain(oil content is not high) and other hard and brittle materials.
The machine uses the relative high-speed running between the movable gear disc and the fixed gear disc, so that the material to be crushed will be crushed by the impact, friction of the gear disc and collision between the materials.Crushed material can be directly discharged from the grinding chamber, the discharge port, general materials after crushing after cotton bag to collect, the crushed material collected in the bag, the air bag is from small holes, not the fine powder is discharged, so as to not waste, no pollution effect. The particle size is determined by replacing different mesh screen.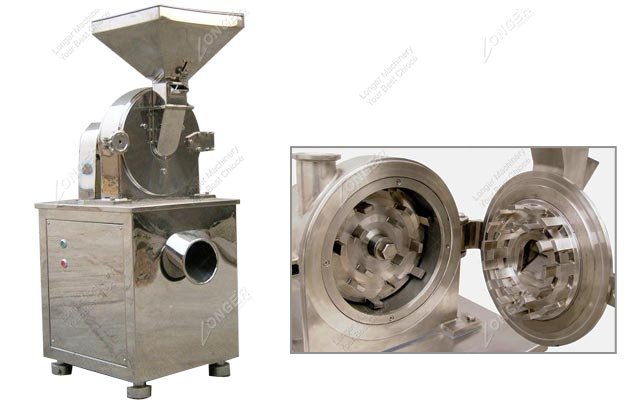 Strengths of
Pepper Powder Making Equipment
:
1. In the grinding room, the high speed rotating knife with the wind wheel is adopted. The inner air volume of the machine cavity is large, and the inner cavity of the machine is not easy to generate heat.
2. The powder mill has the advantages of smooth operation, convenient disassembly and assembly, low noise, good grinding effect, etc..
3. The particle size of powder can be adjusted by replacing different mesh screen.
4. This machine is made of stainless steel material, the shell (grinding groove) all the tooth precision machining to achieve a smooth surface, easy to clean, so that food, medicine, chemical products production can meet the export standards, meet the GMP requirements of health.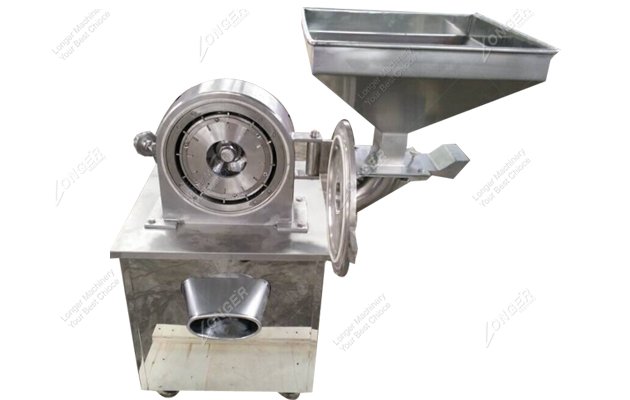 Matters needing attention:
1. the external power supply of the machine should be installed with suitable circuit breaker according to the power of the machine. The purpose is to cut off the power supply automatically when the machine load is too large and the current is too large to protect the motor!
2. when the machine is working, make sure to have someone to take care of.
3. the material particles to be crushed should not be too large, in case of stuffy machine (that is because the machine is too large to cause the speed significantly slowed down or passive stop operation), should immediately cut off the power supply.
4. if the crushed particles are too large, the crusher should be broken through the crusher, and then crushed by the machine.
| | |
| --- | --- |
| Model | LG-30B-C |
| Capacity | 100-300 kg/h |
| Revolution of spindle | 3800r/min |
| Size of fed material (mm) | 10 |
| Crushing size | 60-120 mesh |
| Crushing motor | 5.5 kw |
| Cleaning motor | 0.75 kw |
| Dimension(mm) | 1200*650*1650 |
| Weight | 320 kg |
Leave Message
Replace
Related Products