Groundnut Chutney Making Machine Price
Material: chutney
Capacity: 800-1000kg/h
Loading Port: Qingdao Port
Use and of Chutney Making Machine
Chutney Making Machine is a kind of professional wet materials grinding equipment, it is a prefect device to make sauce in food industry. It can make onion chutney, tomato chutney, groundnut chutney, garlic tomato, date chutney, tamariand chutney, coriander chutney, coconut chutney etc.. At present, a series of products have been formed. With the continuous recognition and use of it, it has been widely used in food processing, building coating processing, plastics, daily cosmetics, chemical, pharmaceutical, printing, papermaking, paint and other industries.

Structure of Commercail Chutney Maker
Its main structure is composed of three parts: the grinding center part, the base transmission part and the special motor. The core and the core of the grinding part are the key parts of the machine. Therefore, according to the nature of the material being processed, the selection may be different, but the material is made of stainless steel.

Working Principle of Groundnut Chutney Making Machine
The material is broken by shearing, grinding and high frequency vibration through the relative motion of the stator and rotor under high speed rotation with different geometric shapes. The crushing chamber has three grinding areas, the first level is coarse grinding area, the two level is the fine grinding area, and the three level is the ultra fine grinding area. By adjusting the clearance of the fixed rotor, it can effectively achieve the required superfine crushing effect at once.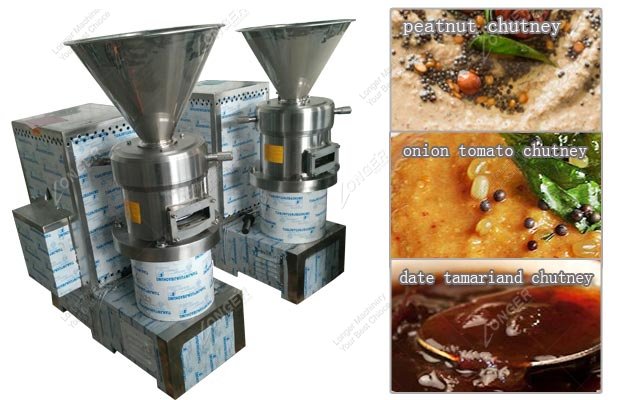 Precautions for the maintenance of Chutney Maker Machine
1. Colloidal mill has vertical colloid mill, split colloid mill, pipeline colloid mill, horizontal colloid mill, stainless steel colloid mill, high shear colloid mill, titanium white carbon black colloid mill, hygienic grade colloid mill and so on. The colloid mill series is a high precision machine. The main line speed of the machine runs as high as 44m/s, and the gap between the stator and the rotor of the colloid mill is very small. So, the coaxiality error less than 0.02mm after repair must be corrected back shell and spindle indicator.
2. In the repair of colloid mill machine, the process of open and install back adjustment, never allowed direct percussion with iron hammer. Use wood hammer or padding wooden block to strike lightly so as not to damage the colloid grinding parts.
3. The colloid mill seals are divided into static and dynamic seals. The static seal adopts the O type rubber ring and the dynamic seal to adopt the hard mechanical combination seal. Found hard sealing surface scratch should be carried out in flat glass grinding repair or plate casting, grinding material for silicon carbide abrasive cream is better than 200#. If the seal is damaged or the crack is serious, please replace it immediately.
4. In the process of using colloid mill, regular maintenance should be carried out according to the conditions of the processed materials.
5. For the maintenance and use of the motor, please refer to the instructions for the use of the motor.
6. The processing materials must not be mixed with quartz sand, broken glass, metal chips and other hard materials, strictly prohibited into the colloid grinding process production. It is recommended to add a filter in front of the pipe.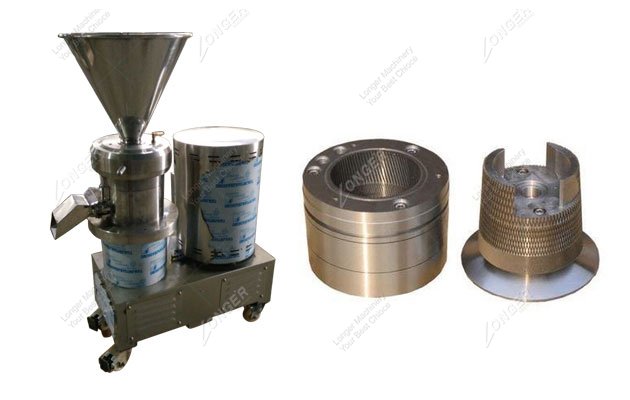 | | |
| --- | --- |
| Model | LGJMS-180 |
| Fineness | 100-200 mesh |
| Output | 0.8-1 t/h |
| Power | 18.5kw |
| Weight | 340 kg |
| Size | 830*490*1100mm |
Leave Message
Replace
Related Products