How to Use Grinding Machine?
Category:
Blog
When the grinding machine is in place and connected to the power cord, follow these procedures:
1. Check whether the fastening bolts are tightened (fastening rotor bolts M12 left bolt).
2. Turn the two fixed lever counterclockwise (loosen the locking lever).
3. Adjust the ring to counter clockwise rotation, not less than 90 degrees (the stator and rotor clearance will be increased).
4. Use a special wrench to turn the rotor and check whether the rotor is jammed or not. The boot is not allowed if found.
5. Point movable switch.
1) Check the direction of rotation of the rotor shall be in accordance with the direction indicated by the arrow on the device (overlooking the clockwise direction).
Note: steering errors cause the rotor to tighten, screw loose or fall off, and severely damage the machine.
2) Check the operation of the equipment, whether there is noise or vibration. In case of trouble, check immediately before troubleshooting.
6. Connect the water inlet and outlet according to the cooling water connection on the equipment. The cooling water pipe can be made of plastic tubes with a bore diameter of phi 10 mm.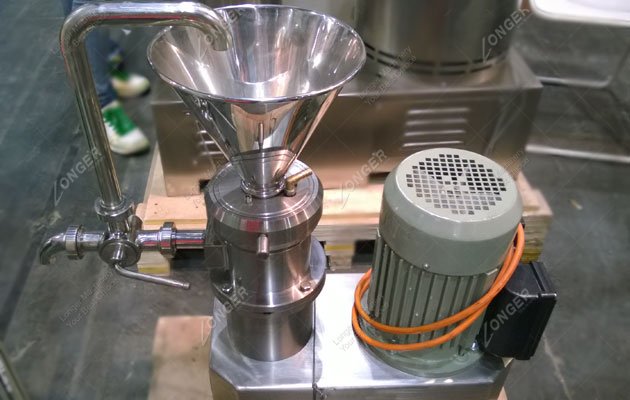 At this point, the preparation of the equipment before use is ready to enter the production operation
1. Turn on the cooling water. Cooling water pressure is about 0.15Mpa, the water temperature is not higher than 25 deg. The cooling water can be recycled after filtration.
2. Turn on the motor.
3. Adjust the machining gap of stator and rotor.
4. Adding materials for processing.