Peanut Butter Production Line Working Video
Category:
Blog
Our company's
peanut butter production line
is in line with market demand. And, we have the core equipment in the production line. The grinding machine and fine grinding machine have been improved and optimized, and the processing of peanut butter and sesame paste has been further improved. The complete sets of peanut butter making machine is not only a high degree of mechanization, good reliability, closed production, and has the advantages of simple operation, stable operation, small noise, Yi Weixiu, corrosion resistance, wide application, varieties and so on characteristics, popular in the domestic market.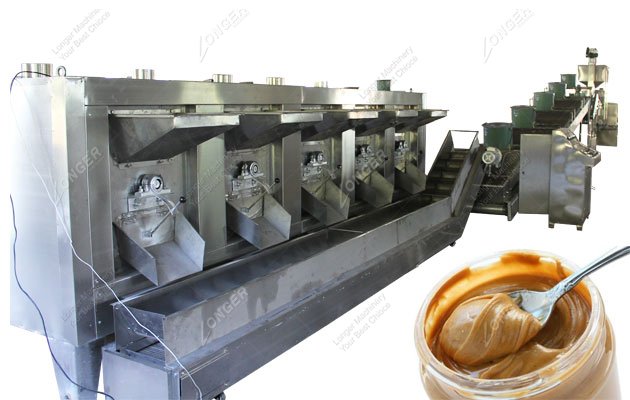 1. Raw materials: peanuts, nuts
2. Products: peanut butter, nuts butter
3. Output: 100-500kg/h, we also can order machines according to the customer's production requirements.
4. Voltage: 380V/50Hz
5. Configuration: we can adjust the frequency converter, motor, electrical appliance, sealing board and so on according to the customer's request
6. Process: peanut with red sin→ hoist → oven → conveyor → cooling → peeling → picking → grinding → storage → mixing → vacuum degassing → cooling → canned → finished
7. Peanut butter production line working video: